Adding new users to your site is a very easy process and there are no user limits in Marketpath CMS. You can have as many editors, developers, or other user types you want.
Add a User
To add a new site user, be sure you have the site appropriate site already opened. Then click Site -> Site Settings in the left side navigation (fig. 1).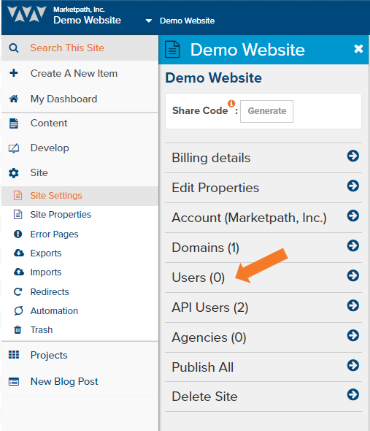 Figure 1 - Site Settings
Next click Users (fig. 2).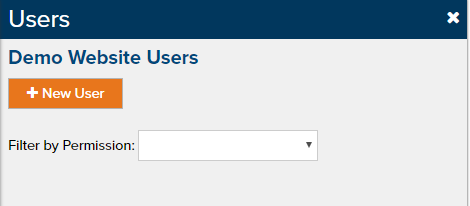 Figure 2 - Site Users dialog
Click New User and then provide the email address of the user you wish to add (fig 3). Be sure to select the permissions you want that user to have and click Add when done.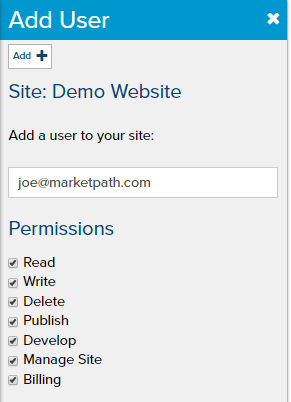 Figure 3 - New Site User dialog
Your new user will receive an email message inviting them to make changes on the site. If they are not a current Marketpath CMS user they will receive instructions on how to register and verify their new user account. You will see the new user in your Site Users dialog after adding them (fig. 4).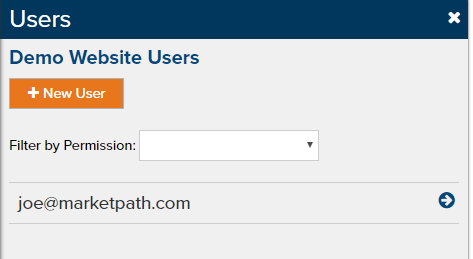 Figure 4 - Site Users dialog with new user added
And that's all there is to it!
Audit Users Regularly
Be sure to audit the users in all of your sites on a regular basis so only the right people have access to make changes. Marketpath CMS users are indpendent from your organization's email system. So, even if a user's email is deleted from your email server, they can still access your site and make changes until you remove them.
To remove a user, simply click on their email or name in the Site Users dialog and Remove (fig. 5).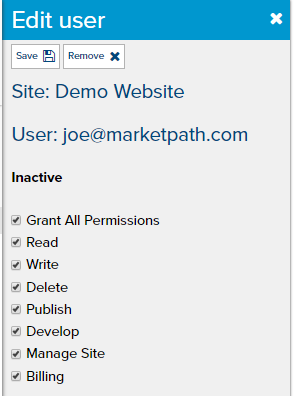 Figure 5 - Site User Edit dialog