Sharing Page Previews
ID: EBT-OC-SPP
In one of the first lessons of this course you learned about the Preview environment. The Preview environment allows you to see your changes to content prior to publishing it. Every time you click the Save button, your changes are sent to Preview.
Access Site Preview
To view the preview site, open an object's properties dialog and scroll down to the Page group. Click the View Preview button (Fig. 1) and the preview for that object and page will open in a new tab.


Figure 1 - View Preview button on object properties page
The Preview site will require a password for outside visitors. However, if you are logged into Marketpath CMS and access the Preview site you will not be prompted for a password.
Sharing Site Preview
You can share the Preview site with others by clicking the Share button (Fig. 2) while in an object's properties dialog.


Figure 2 - Share button
The Share This Page dialog will appear (Fig. 3).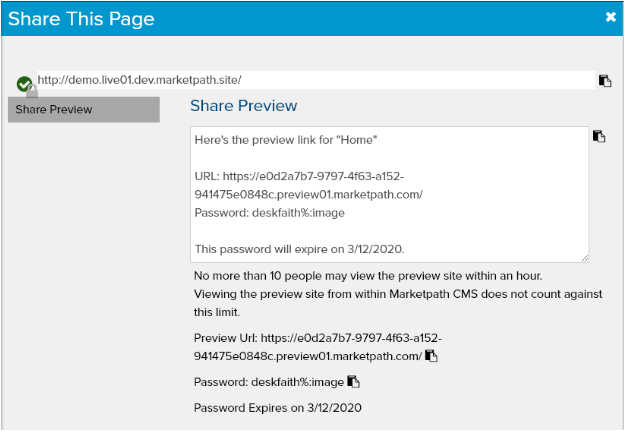 Figure 3 - Share This Page dialog
Click the copy to clipboard icon

next to any data in the dialog. The larger white text box contains pre-written details that allow you to share all the information (Preview URL and password) quickly and easily. Just click the copy button next to it and paste into a new email.

---
---