Managing Form Submissions
ID: EBT-WWC-FS
Marketpath CMS captures form submissions from the Live website and syncs those back to the Manage environment.
Accessing Form Submissions
To see all form submissions go to Content -> Forms and the Forms dialog will open (Fig. 1).


Fig. 1 - Forms dialog
Click on the Browse icon to view form submissions for each form. This will open the Form Submissions dialog (Fig. 2).


Fig. 2 - Form Submissions dialog
In the Form Submissions dialog, you can click checkboxes to trash form submissions or you can click the Properties button to view the submitted content (Fig. 3).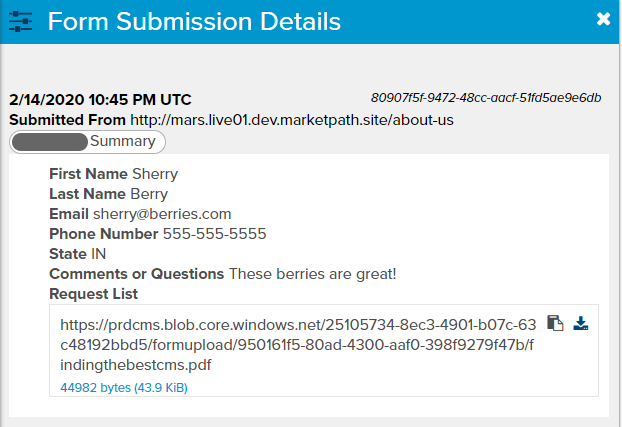 Fig. 3 - Form Submission Details dialog
File Uploads
If your form contains a File upload field then you will see a download link in the details or in the email notification, if set. There are a couple things to know about this. First, all uploaded files are scanned with an off-site anti-virus and anti-malware scanning service. There is a slight delay between when the form submission notification is sent and when the file is scanned and marked as safe.
You can click on the download link and if the file has not yet been scanned you will receive a warning message about the dangers of continuing to download it. We highly recommend waiting for the file to be fully scanned before you download it.

---
---