Working with Tags
ID: EBT-WWC-TAG
Marketpath CMS provides Tags so you can group content by related topics. In the context of a website Tags have two purposes. One is to give a boost to search engine optimization efforts. The other is to lead visitors to related content. Trying to balance the two is part art and part science.
This lesson will not get into the strategy behind Tags, though. It is a simple primer for creating and applying Tags.
To view all of your site's Tags, navigate to Content -> Tags. The Tags list dialog will open (Fig. 1). Here you can click the Browse icon

to view all of the content that uses a Tag. You can also view and change the Tag properties by clicking the Properties icon

.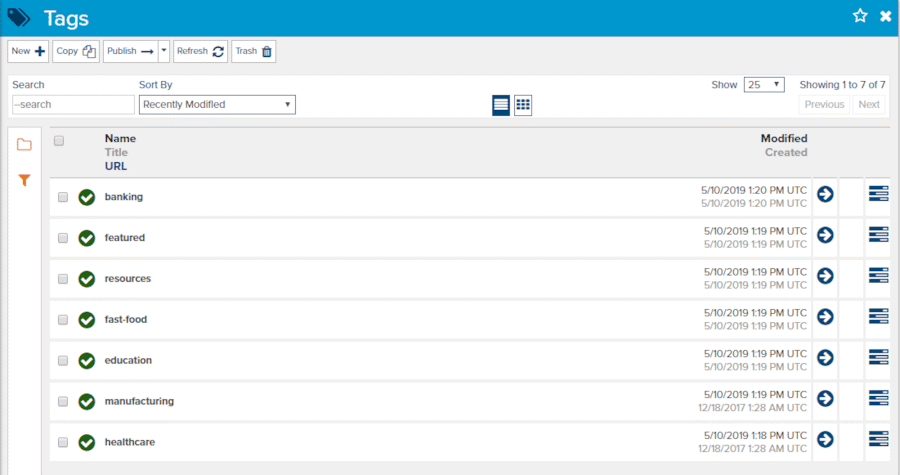 Fig. 1 - Tags dialog
Creating a Tag
To create a new Tag click the New action and the New Tag dialog will open (Fig. 2).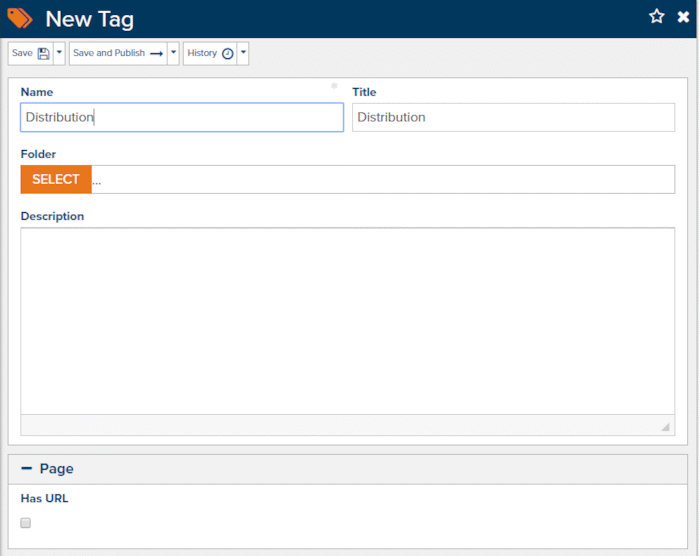 Fig. 2 - New Tag dialog
Each Tag needs a Name (same as Internal Name) and Title. If your site uses the Tag Description field then add a summary of the Tag there.
Additionally, your Tag may or may not have a URL associated with it. You can check your other Tags to see if Has URL is checked. If it is, then you should follow the same procedure with this Tag and set the Page properties appropriately. Tags without an associated page are not terribly valuable.
Applying Tags
Tags are worth nothing if they aren't applied to content throughout the site. At a minimum, your tagging strategy should include your Blog Posts because topics often vary between your primary business offerings.
Within any Properties or Edit Page view, you should see the Tags field (Fig. 3). Click add Tags to add additional Tags to the object. You can also click the red X to remove any tags or click the Properties icon to open and modify a Tag.


Fig. 3 - Tags field for most content
If you have more than one Tag in the list you will be able to reorder them by clicking and dragging the up and down arrows icon

.
---
---